If 2009 saw me produce what was, for me, a huge number of stories (at one time I had 20 stories 'live' and in various phases between being critted at OWW or subbed to markets,) 2010 came down to a mere three projects and a handful of stories. The part of me that is never satisfied observes this and feels like a bit of a failure: I cracked no new markets in 2010 nor made that chimeric pro sell.
I still have some older stories in circulation that I believe in:
Plastic Trees
is my best flashfic, even better than
Ward of the State
.
i laff wen we do silly things
, despite a murder too early to care about and enough content to flesh out a novel... I still believe in it. It is a story with several hard-to-say spaceship names, and this is perhaps the only change I might make to the tale at this point. I love me some brooding horror SF, and my hope for that one is to find a market that is particularly suited to that sort of tale. If I change my mind about the story, it will be because I decide it in fact has too much content for a short story. The one place that I'd be so bold as to compare myself to Borges, is in this: I'd sometimes rather explore an idea that looks novel-size in a short story. Maybe it's a commitment thing.
A Song for the Love-Plagued
I think is a perfectly fine 'Stephen King horror tale with a heart', with two things working against it: it is too tied into its pop-cultural references and is, nominally, a zombie story. And the only thing more tired these days than steampunk? Zombies. I'm aware that there's a zombie steampunk novel out there that is fairly popular. Anything can be made fresh and engaging, with the right approach. But zombie steampunk? That's almost as bad as, say, a Desi Space Western...
I have some more 2009 stories still wanting for rewrites or new goes at circulation, but these are the ones at the top of my mind.
Newer stories, written in 2010, include my best story to date,
Atlas Bled
. It is circulating right now and I'm only sending it to pro markets, until I exhaust all that are appropriate. The story addresses adult subject matter through the medium of the fantastic in a way that I very much had in mind when thinking about what I'd like to see in FU. This isn't to say; I'm so good, or even, I want a particular type of story (because it is a very specific type of story.) Rather, that while I love (and write) more fanciful, escapist stories, the ones that stick with me are those that address the reader on a deeper level while still not forsaking themselves as stories of the fantastic. So, yeah, this story does that as best as I know how at this point in my life and I hope it finds a nice home.
I also wrote
New Beasts
for
The Aether Age
.
New Beasts
was fun to write because it is so different from anything else I've written. And, honestly, I set out with one goal, which wasn't to write a delicately told tale or even a story of intricate extrapolation. No. I set out to write a tale of unrelenting badassery. Now, how well I achieved that isn't for me to say. But I at least tried to channel me some Vance/Lieber style pulp SF heroics and it was fun. I plotted and began a second AeA story that I just did not have the time to finish, and one of the other writers scoped out my general premise and went on to write a totally new story from that same seed. I may go on to flesh out my original tale in my attempt to work out my own suggestions for what Tartaros will bring. And when will the call for subs begin for Tartaros? Hhhmmmm.
New Beasts
, by the way ends up encapsulating the heart of my thoughts about the individual's place in society, be they black or gay, slave or general. It expresses my challenge to all claims of authority and truth-tests that allow exceptions for access to liberty, life, and the pursuit of a self-defined happiness. And I hope it speaks to the integrity and lack of agenda of AeA the shared world, that my 'good guys' are the 'bad guys' in some of the other Helios stories. It makes for an interesting glimpse at a swath of history.
So, of course,
The Aether Age
was one of my three big projects for 2010. My first editing gig (co-edited with Chris Fletcher of M-Brane SF) proved enlightening and fun, if nerve-wracking. We were also co-creating a world, and there were nights when I woke up at 3:00 AM and shot an email off to Chris to say "OMG, it takes 700 years to fly a 747 to Jupiter from earth." Perhaps the most astonishing facet of this particular email is this information is out there at all. While AeA probably can't make a rigorous, hard SF claim, plausibility is important. Character and story are predominantly important to me, but if a story represents itself as SF, I want the SFnal goods too!
Enter Goga's Ancillary, and I was once again able to sleep. The Aether Age: Helios was published on November 29th, and I stand by it as one of the most original SF properties to see publication in 2010.
My second big project in 2010 was starting
Fantastique Unfettered: A Periodical of Liberated Literature.
I'm not an ideologue, AND I wanted to take the CC-BY-SA license used for Aether Age a bit farther, be a bit more brash about it, and see what happens. Luckily several great writers and poets believed in the idea enough to send me their work for the first issue. And make no mistake, I'm not just talking about the ones that made it into the issue: the quality of the FU slush pile astounded me.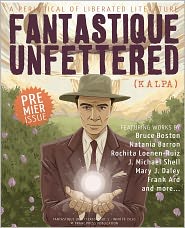 I benefited immensely from the tracks already laid by my publisher,
Christopher Fletcher/M-Brane Press
, and other associations I have such as
Hadley Rille
,
Outer Alliance,
Online Writers Workshop
, and --maybe especially--
Drollerie Press
, the associated blog tours, and
Angela Korrati
in particular, who has sent me more blog traffic than any single specific source (Thank you, ma'am!). Word of mouth is where it's at for a small press writer, and for someone like me who kinda sucks at consistently twittering, people like Angela make all the difference.
OK, but FU: issue one is great and soooo cheap. We priced it under $10 US, and
B&N has discounted it to $7.01 since release (checking... YES, it is still discounted as of this writing.
) Best deal you're likely to find for so many amazing stories & poems. Not one to read poetry while you sip your tea and nibble at biscuits? Me neither: this is poetry for you. Not one to read silly fantasy stuff? These are the stories for you. I'm telling all my 'non SF-loving' friends to read the first story, Annam Manthiram's Boris, and see if they don't want more. Might you do the same? This is adult, sexy, honest, fun, and by turns dark and playful.
The other stories range from straight Stephen King horror, to a gonzo alt history, magic realism, urban fantasy, and to stories that bend the rules in all the right ways. We, in fact, have both sleeping princesses and talking animals, but these aren't your typical fairy tales, I promise you. Come to think of it, I dislike classifying stories in this way: It's Good Stuff(tm), and I hope you check it out. I find it quite a bit easier to brag on other people's writing than my own, as you can see, but I don't do so lightly.
Finally, my third big project of 2010 was writing my half of the forthcoming M-Brane SF Double, the novella
Elegant Threat
(On the Demise of Captain Fantomas Patton-Guererro and Loss of La Amenaza Elegente.) This is my Desi Space Western (there I go with the silly categories again). And that is a simplification... the cultures are predominantly a new strain of Islam that has taken root in the Rigel Kent system (Alpha Centauri) and a Hindu sect, the Shaivists. To whatever extent I am familiar with this sect, it is specifically Kashmiri Shaivism that I've had discussed with an actual practitioner. And with Islam, I've discussed the faith more with practitioners from Pakistan than anywhere else, so these facts may skew my extrapolation of those faiths.
My future still has Anglos and Christianity and Buddhism, but they are each less common than in our time.
The settlers of the planet Oasis have fled a post-singularity Sol System and exist in an uneasy symbiosis with the post-humanity that reached Rigel Kent (ahead of the humans, in fact). The one bit of post-singularity science allowed in-system are the AGL (anti-gravity layers) that the ships who harvest life from the seas of the moon Shanama use to travel from surface to orbit. Sterling Suits (post-human space suits) are considered blasphemous, and some people even go so far as to condemn the use of AGLs, preferring that humanity either eke out as best as possible on the barely-habitable Oasis, or perhaps reviving the polar settlements on Shanama.
Into this background, we follow La Amenaza and three kids getting their first go at apprenticeships as slicks, the cowboys of the milieu. Or more accurate: kelpie wranglers.
A few drops into their tour, a betrayal, and then everything goes to hell. This probably sounds like a YA plot, and I did write it as something that I could give to my teenage daughters to read, but it has two main narrative strains that I think keeps it from really qualifying as YA.
One thing that I am nervous about with this one: I chose to break a rule regarding POV. I knew that the final sequence required multiple viewpoints to work, and to have a certain symmetry, I did the same with the initial sequence. I hope readers stick with it through that first chapter, since I think the approach ultimately works and makes sense.
Looking ahead at 2011, I'm wavering. Do I complete the Elegant Threat story, so I can have a novel under my belt? Do I pen the Aether Age story sequence that's knocking around my brain? Or should I return to my massive-for-me-short-story-writing-mode? It probably depends on how Elegant Threat hits me once it's out. Some stories scream for elaboration; others are good precisely because they hint at more (but that's all you get!)
I have memory problems that have grown worse after my --not so recent, now-- seizure and I feel like my brain is more engaged when I'm writing several stories and playing around with several ideas. And it may come to be that FU fulfills that 'long term project need' that I have. On the other hand, novels can take the reader places that a short story can't, so... we'll see.
I look forward to getting the quarterly editions of FU out and expanding to include ebook versions. Maybe we'll do an all-audio version.
Tisch? Paul?
;) I'd like to try at least one boundary-stretching Something this year...
A 'small press alliance' app for android, ipad, etc., a
Graphic.ly
-style thing that featured small press zines instead of comics: that's something that I'd love to help bring into being, and something I believe would help small press survival. With the social aspects, the good stuff is self-selecting and hence the value in helping readers find indie stuff in an easy to access portal, while also giving them reader-level insight into what's good, what's great, and what suck raw eggs. Anyway: anyone? I know I'm the new kid on this particular block, but I've been reading this stuff since I was 16, eagerly awaiting my copies of 2AM, Pulphouse, and Weird Tales. I love small press short fiction, and my opinion: some scheme similar to what I've described is one of the best ways for small press publishers to reach out to a wider audience.
More Aether Age in 2011? Watch the pages of
FU
&
M-Brane SF
. Anthologies? Once FU hits the year mark, I'll take serious assessment if CF hasn't already, and see if Tartaros is due. If not, I'd like to see The United States of Texas anthology come to life, but I've learned from the past year that I can only do so much and that might have to wait.
If I conclude with one thought... it's that I love genre fiction, and short stories in particular. When they are well done, it is magic. I've felt that magic in 2010, and I want to feel more of it in 2011.
Take care and have a safe & joyful New Year!
--Brandon H. Bell Dec 28th 2010